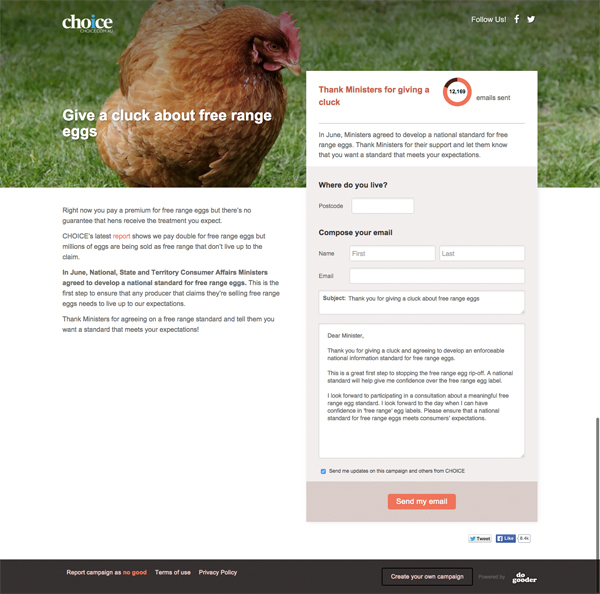 Campaign Managers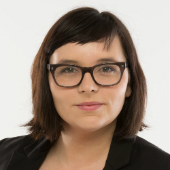 A national standard for free range eggs is closer than ever thanks to Choice Australia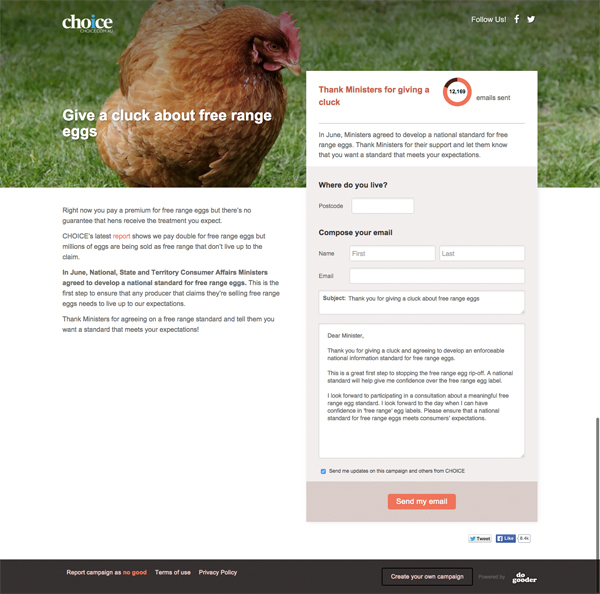 Campaign duration2 days
2 daysCampaign duration
Supporters12,169 emails
12,169 emailsSupporters
ImpactPolicy shift
Policy shiftImpact
Victory! Consumer Affairs Ministers have agreed to develop an enforceable national information standard for free range eggs. Do Gooder's tools were indispensable for the campaign, helping us get a highly targetted campaign up quickly that delivered thousands of  "Aussies give a cluck about how our chickens are treated!" messages to ministers.
---
Erin Turner -
Campaign Manager, Choice Australia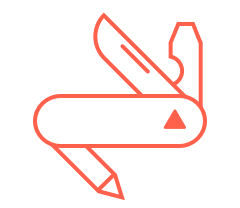 Take the Tour
Clucking good news!
Clucking good news!
Choice Australia launched its 'Give a Cluck' campaign just a few days before State and Federal ministers met to decide on a free range egg standard.Do Gooder's email action tools allowed Choice to rally thousands of supporters to send messages prior to the decision by ministers to proceed with new labelling laws.
The results were immediate, a decision was made to proceed with new laws! To ensure the right laws are introduced Choice took advantage of Do Gooder's flexibility and changed tack mid-action to send over 12,000 thank you messages reminding ministers of the need for consultation and a standard that meets the community's expectations.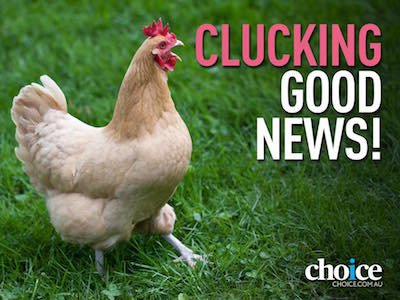 The campaign platform of Choice
The campaign platform of Choice
Choice Australia have launched over 25 campaigns on Do Gooder, championing consumer rights on a diverse range of issues from pet insurance to Internet piracy. With up to 10 campaigns running simultaneously, Choice relies on our simple to use admin and flexible tools to keep on top of their challenging consumer campaign schedule.
"We can't do what we do without Do Gooder." — Erin Turner.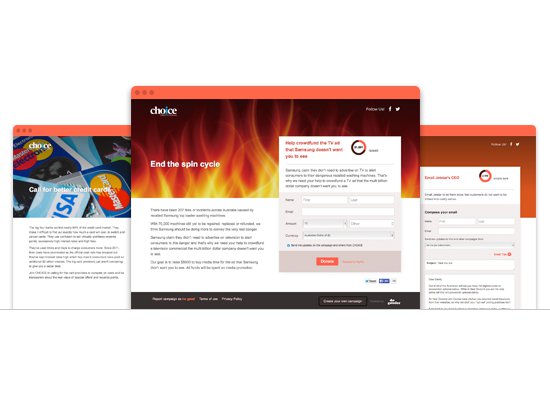 Professional campaign tools starting at $49/month
Start your free trial
14 day free trial. Change plans any time.